Mission Statement
The mission of The Good Life Radio broadcast is to help people find their God-given purpose.

---
Program Hosts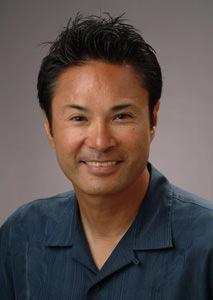 Danny Yamashiro is an entrepreneur, author, motivational speaker, radio & TV host, minister and consultant. At 18, he miraculously survived a deadly 400 foot fall from the famed ridge of the Nuuanu Pali in Honolulu, Hawaii. Attempting to rescue his stranded girlfriend from a 20 foot mountain climbing fall, he slipped and fell head first 300 feet and later another 100 feet. He suffered severe head injuries, skull fractures, multiple tears in his scalp, a shattered ankle, damaged organs, extensive lacerations, and being comatose. In 1993, he founded Jesus Christ Is Calling You Evangelistic Ministry, Inc. and launched a series of large scale revival tent meetings throughout Hawaii. Since 1998, his organization has expanded worldwide with medical and dental clinics, sports clinics and numerous forms of humanitarian aide by supporting the work of Christian churches in rural locations. Danny is married to Jamie. They have three children: Allie, Hugh and Luke.Email Danny

---
Leslie Sylva
Leslie Sylva was born and raised in Honolulu, Hawaii. She's currently employed at HMSA as the Supervisor of Workforce Training. Leslie attends Grace Bible Church Pearlside, and has been a Christian for more than 30 years. Her passion is in women's ministries, teaching and encouraging women to find their true identity through a personal and intimate relationship with Jesus Christ. In her free time, she enjoys reading, exercising, trying out new, healthy recipes, and learning about health and nutrition. Leslie lives in Aiea with her son, Lance.

---
Carlos Cambre
Carlos V. Cambre Sr. was born and raised in New Orleans, Louisiana. He now calls Hawaii his home. He is a soldier, realtor, property manager, businessman, entrepreneur and minister of the Gospel. After serving the United States for over twenty years, Carlos is in the process of retiring from the military. As Master Sergeant, he is a combat veteran and the recipient of two Bronze Stars for his performance while serving in Iraq. In 2008, Carlos suffered a pulmonary embolism which medical professionals say should have ended his life. But, God wasn't done with him. That was the beginning of Carlos' new assignment – to lead men and women in the military and their families to God. He disciples individuals in the military who in turn do the same with others. Carlos is married to Vanessa. They have two sons: Carlos Jr. (CJ) and Carwin.

---
History of The Good Life Radio
In 1993, the Jesus Christ Is Calling You Evangelistic Ministry, Inc. was formed with a vision for evangelism through tent crusades. Beginning with its first evangelistic "Billy Graham" style crusade in world famous Waikiki, JCCY has grown to an international organization utilizing television, radio, print media, internet, global missions, church planting, seminars and conferences to provide evangelistic equipping and opportunities for the Body of Christ in Hawaii and around the world. The Good Life Radio broadcast is the newest extension of JCCY's Founder and President, Danny Yamashiro's 17 years of radio ministry.
In 2008, the program began as the Evangelism Hotline with Danny Yamashiro and his team of co-hosts Alfredo Canencia, Billy Lile and Martin Arinaga. Eventually it was developed to become an "Evangelism Connection Point" resource that featured compelling life stories of special guests.In 2010, The Good Life Radio Show officially became a program of Danny Yamashiro Ministries, a division of Jesus Christ Is Calling You, Inc. Master Sergeant Carlos Cambre and Leslie Sylva were chosen to co-host The Good Life Radio Show with Danny Yamashiro.