Podcast: Download (Duration: 58:18 — 13.3MB)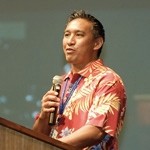 www.comeliketherain.org Paul Lucas ran a million dollar business he and his wife built from scratch. At the peak of it's growth he was blind sided by a corporate take over and lost almost everything. When he had finally run out of options, there was only one place he could go. He tells his gripping story in this hope filled feature of The Good Life Hawaii Radio Show.
---
Paul Lucas is the senior pastor of Jesus Christ, the Hope of the Nations. He and his wife Lisa lead the church along with their staff of multi-talented pastors, leaders and volunteers.